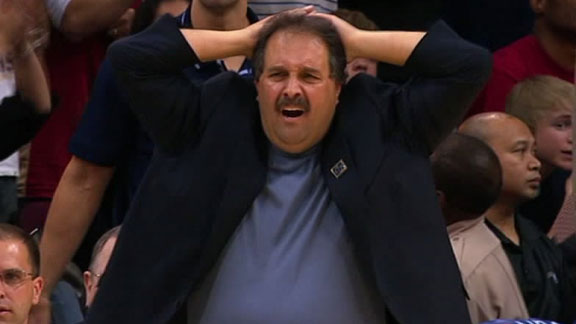 Everybody probably made a bigger deal out of that Russell Westbrook-Kevin Durant "confrontation" Wednesday night than it actually was.
But as long as it appears obvious that Westbrook isn't content with playing second fiddle to Durant in Oklahoma City, talk about the two's relationship possibly becoming contentious is going to linger. Both players can deny any problems with the other as much as they want, but it's not doing anything to dissuade others' opinions.
If there is legitimate beef between the Thunder's two all-stars, then it might be wise to eventually split them up, and Magic coach Stan Van Gundy thinks he has the perfect solution.
From The Oklahoman:
"I think it's very serious, and I think the only thing they can do is split those two guys up," Orlando coach Stan Van Gundy joked on Thursday with his team's local reporters. "And I think they need to get them a long way away, I think here to Florida, to diffuse that problem; Kevin Durant here."
Haha, good one, Stan.
Yes, he said it in jest, but you don't think Stan Van wouldn't have a problem with his team acquiring Durant? Van Gundy just said what every coach in the league legitimately feels deep down inside, no matter how irrational it sounds.
But yeah, no chance in hell the Thunder trades its golden child Durant, who quite possibly could be a future league MVP. Westbrook, who perhaps already wants out, is the one more likely to be shipped out in any trade scenario. Say, in the three-way deal that sends Rajon Rondo to Golden State, Stephen Curry to OKC and Westbrook to Boston?
I'm just saying.
(via Ball Don't Lie)